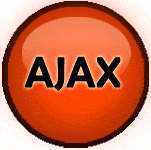 Working with Ajax, PHP and MySQL
Preface
In this tutorial we will see how to make Ajax work with PHP amd MySQL. We will create a small web application. In that, as soon as you start typing an alphabet in the given input field, a request goes to the PHP file via Ajax, a query is made to the MySQL table, it returns some results and then those results are feteched by Ajax and displayed.
Live demo
Let's dive in and explore how this works.
MySQL Table
Following is the structure of the MySQL table we have used.

User interface for supplying data
We have a simple user inerface created with HTML and CSS where user can supply data in the input field.
HTML Code
This is the basic HTML code. Though, we will make modifications on it and add JavaScript code later.

<!DOCTYPE html> 
<html lang="en"> 
<head> 
<meta charset="utf-8"> 
<title>User interface for Ajax, PHP, MySQL demo</title> 
<meta name="description" content="HTML code for user interface for Ajax, PHP and MySQL demo."> 
<link href="../includes/bootstrap.css" rel="stylesheet">
<style type="text/css">
body {padding-top: 40px; padding-left: 25%}
li {list-style: none; margin:5px 0 5px 0; color:#FF0000}
</style>
</head>
<body>
<form class="well-home span6 form-horizontal" name="ajax-demo" id="ajax-demo">
<div class="control-group">
              <label class="control-label" for="book">Book</label>
              <div class="controls">
                <input type="text" id="book">
			  </div>
 </div>
 <div class="control-group">
              <div class="controls">
                <button type="submit" class="btn btn-success">Submit</button>
              </div>
 </div>
</form>
</body>
</html>
			
Following is the screen shot of how it looks

Send data to server using Ajax
We will now create JavaScript code to send data to server. And we will call that code on onkeyup event of the of the input field given.

function book_suggestion()
{
var book = document.getElementById("book").value;
var xhr;
 if (window.XMLHttpRequest) { // Mozilla, Safari, ...
    xhr = new XMLHttpRequest();
} else if (window.ActiveXObject) { // IE 8 and older
    xhr = new ActiveXObject("Microsoft.XMLHTTP");
}
var data = "book_name=" + book;
	 xhr.open("POST", "book-suggestion.php", true); 
     xhr.setRequestHeader("Content-Type", "application/x-www-form-urlencoded");                  
     xhr.send(data);
}