PHP: array_unique() function
PHP: Removes duplicate values from an array
The array_unique() is used to remove duplicate values from an array.
Note: The keys are preserved. array_unique() sorts the values treated as a string at first, then will keep the first key encountered for every value, and ignore all following keys. It does not mean that the key of the first related value from the unsorted array will be kept.
Version:
(PHP 4 and above)
Syntax:
array_unique(array1, sort_flags)
Parameters:
Name
Description
Required /
Optional
Type
array1
The input array.
Required
Array
sort_flags
sort_flags is used to modify the sorting behavior using following values:
SORT_REGULAR - compare items normally.
SORT_NUMERIC - compare items numerically
SORT_STRING - compare items as strings
SORT_LOCALE_STRING - compare items as strings, based on the current locale
Optional
Integer
Note: Two elements are considered equal if and only if (string) $elem1 === (string) $elem2 i.e. when the string representation is the same, the first element will be used.
Return value
The filtered array.
Value Type: Array

Example:
<?php
$fruits_list = array('Orange',  'Apple', ' Banana', 'Cherry', ' Banana');
$result = array_unique($fruits_list);
print_r($result);
?>

Output:
Array ( [0] => Orange [1] => Apple [2] => Banana [3] => Cherry ) 
Pictorial Presentation: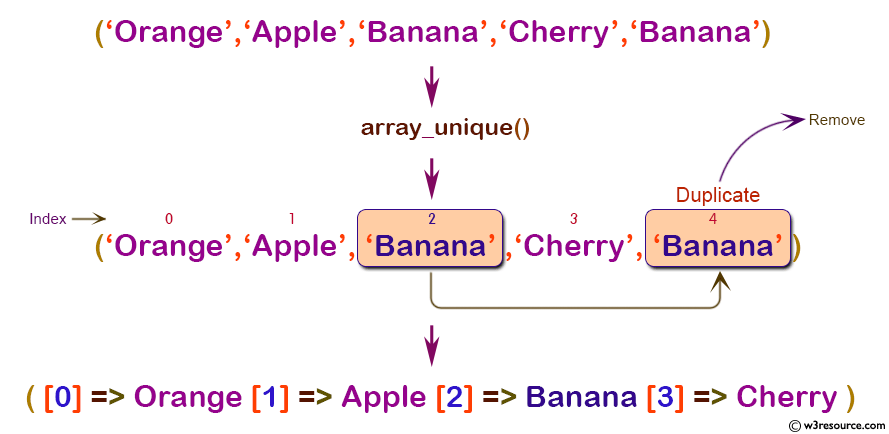 View the example in the browser
Practice here online :
See also
Previous: array_sum
Next: array_unshift

PHP: Tips of the Day
Preferred method to store PHP arrays (json_encode vs serialize)
Depends on your priorities.
If performance is your absolute driving characteristic, then by all means use the fastest one. Just make sure you have a full understanding of the differences before you make a choice
Unlike serialize() you need to add extra parameter to keep UTF-8 characters untouched: json_encode($array, JSON_UNESCAPED_UNICODE) (otherwise it converts UTF-8 characters to Unicode escape sequences).
JSON will have no memory of what the object's original class was (they are always restored as instances of stdClass).
You can't leverage __sleep() and __wakeup() with JSON
By default, only public properties are serialized with JSON. (in PHP>=5.4 you can implement JsonSerializable to change this behavior).
JSON is more portable
And there's probably a few other differences I can't think of at the moment.
A simple speed test to compare the two
<?php

ini_set('display_errors', 1);
error_reporting(E_ALL);

// Make a big, honkin test array
// You may need to adjust this depth to avoid memory limit errors
$testArray = fillArray(0, 5);

// Time json encoding
$start = microtime(true);
json_encode($testArray);
$jsonTime = microtime(true) - $start;
echo "JSON encoded in $jsonTime seconds\n";

// Time serialization
$start = microtime(true);
serialize($testArray);
$serializeTime = microtime(true) - $start;
echo "PHP serialized in $serializeTime seconds\n";

// Compare them
if ($jsonTime < $serializeTime) {
    printf("json_encode() was roughly %01.2f%% faster than serialize()\n", ($serializeTime / $jsonTime - 1) * 100);
}
else if ($serializeTime < $jsonTime ) {
    printf("serialize() was roughly %01.2f%% faster than json_encode()\n", ($jsonTime / $serializeTime - 1) * 100);
} else {
    echo "Impossible!\n";
}

function fillArray( $depth, $max ) {
    static $seed;
    if (is_null($seed)) {
        $seed = array('a', 2, 'c', 4, 'e', 6, 'g', 8, 'i', 10);
    }
    if ($depth < $max) {
        $node = array();
        foreach ($seed as $key) {
            $node[$key] = fillArray($depth + 1, $max);
        }
        return $node;
    }
    return 'empty';
}

Ref : https://bit.ly/3jqrgFL
---
Exercises: Weekly Top 12 Most Popular Topics
---
---