PHP : array_walk_recursive() function
PHP: Apply a user function recursively to every member of an array
The array_walk_recursive() function apply a user defined function to every element of an array recursively. The user-defined function takes array's values and keys as parameters.
Version:
(PHP 5 and above)
Syntax:
array_walk_recursive(input_array, user_function, user_data)
Parameters:
Name
Description
Required /
Optional
Type
input_array
The input array.
Required
Array
user_function
The name of the user-defined function.
Required
user_data
Additional parameter. If it is supplied, it will be passed as the third parameter to the user_function.
Optional
Mixed*
Return value:
TRUE on success or FALSE on failure.
Value Type: Boolean
Example:
<?php
function w3rfunction($value,$key)
{
echo "The key $key has the value $value<br />";
}
$tutorial1=array("x"=>"india","y"=>"Pakistan");
$tutorial2=array($tutorial1,"1"=>"China","2"=>"Japan");
array_walk_recursive($tutorial2,"w3rfunction");
?> 

Output:
The key x has the value india
The key y has the value Pakistan
The   key 1 has the value China
The key 2 has the value Japan 
Pictorial Presentation: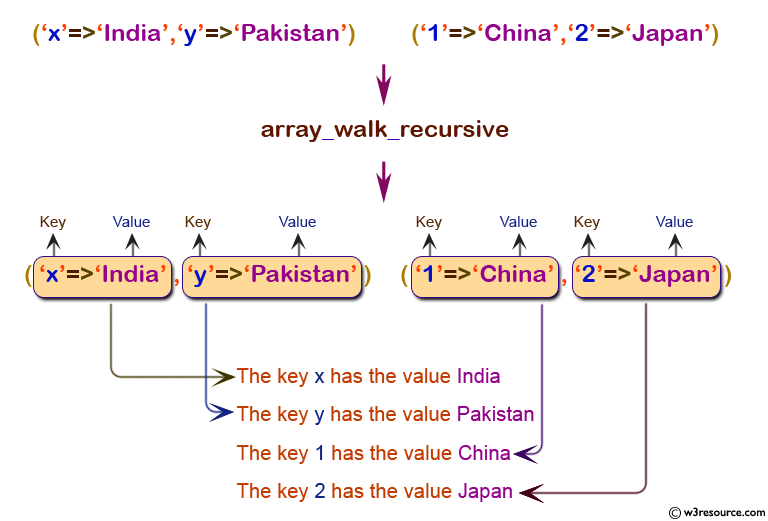 View the example in the browser
Practice here online :
See also
Previous: array_values
Next: array_walk

PHP: Tips of the Day
Filters the collection using the given callback
Example:
<?php
function tips_reject($items, $func)
{
  return array_values(array_diff($items, array_filter($items, $func)));
}

print_r(tips_reject(['Apple', 'Pear', 'Kiwi', 'Banana'], function ($item) {
  return strlen($item) > 4;
}));
?>

Output:
Array
(
    [0] => Pear
    [1] => Kiwi
)

---
---
---
---