PHP: sizeof() function
PHP: Count all elements in an array
The sizeof() function is used to count the elements of an array or the properties of an object. This function is an alias of count().
Version:
(PHP 4 and above)
Syntax:
sizeof(array_name, mode) 
Parameters:
Name
Description
Required /
Optional
Type
array_name
Specifies the array or object to count.
Required
Array
mode
Sets the mode of the function.
Possible values :
COUNT_RECURSIVE (or 1) Here the count() function counts the array recursively. This is useful for counting all the elements of a multidimensional array.
The default value is 0.
Optional
Integer
Return value:
The number of elements in array_name.
Value Type: Array.
Example:
<?php
$a[0] = 'Language';
$a[1] = 'English';
$a[2] = 'Math';
$a[3] = 'Science';
$result = sizeof($a);
echo $result;
?>

Output:
4
Pictorial Presentation: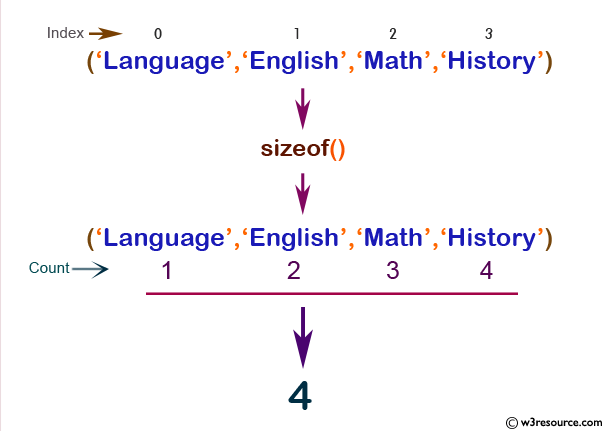 View the example in the browser
Practice here online :
See also

PHP: Tips of the Day
Filters the collection using the given callback
Example:
<?php
function tips_reject($items, $func)
{
  return array_values(array_diff($items, array_filter($items, $func)));
}

print_r(tips_reject(['Apple', 'Pear', 'Kiwi', 'Banana'], function ($item) {
  return strlen($item) > 4;
}));
?>

Output:
Array
(
    [0] => Pear
    [1] => Kiwi
)

---
---
---
---