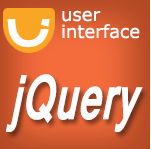 jQuery-UI : Exercises, Practice, Solution
Introduction
jQuery UI is a curated set of user interface interactions, effects, widgets, and themes built on top of the jQuery JavaScript Library. Whether you're building highly interactive web applications or you just need to add a date picker to a form control, jQuery UI is a perfect choice.
jQuery UI offers a combination of interaction, effects, widgets, utilities, and themes designed to work well together or on their own. Play with the exercises, view the source, build a theme and start using jQuery UI today.
Currently, following sections are available, we are working hard to add more exercises. Happy Coding!
More to Come !
Note : The solution of the exercises described here are not the only ways to do stuff. Rather, it would be great, if this helps you anyway to choose your own methods.
[ Want to contribute to jQuery exercises? Send your code (attached with a .zip file) to us at w3resource[at]yahoo[dot]com. Please avoid copyrighted materials.]
List of Exercises with Solutions :

Amazon promo codes to get huge discounts for limited period (USA only).
---