PHP: array_pop() function
PHP: Pop the element off the end of array
The array_pop() function is used to remove the last element of an array. For an empty array, the function returns NULL.
Note: This function will reset() the array pointer of the input array after use.
Version:
(PHP 4 and above)
Syntax:
array_pop(array_name) 
Parameter:
Name
Description
Required /
Optional
Type
array_pop
The specified array whose last element will be removed.
Required
Array
Return value:
The last value of array_pop.
Value Type: Mixed*.
*Mixed: Mixed indicates multiple (but not necessarily all) types.
Example:
<?php
$array1= array('Mathematics','Physics','Chemistry','Biology');
$subject=array_pop($array1);
print_r($array1);
?>

Output:
Array ( [0] => Mathematics [1] => Physics [2] => Chemistry )
Pictorial Presentation: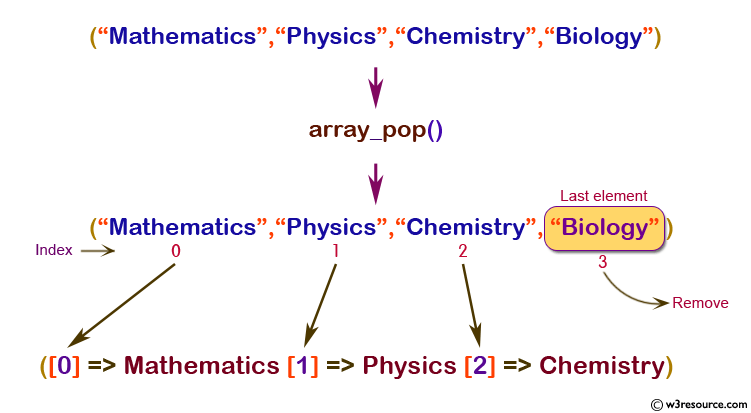 View the example in the browser
Practice here online :
See also
Previous: array_pad
Next: array_push

PHP: Tips of the Day
Filters the collection using the given callback
Example:
<?php
function tips_reject($items, $func)
{
  return array_values(array_diff($items, array_filter($items, $func)));
}

print_r(tips_reject(['Apple', 'Pear', 'Kiwi', 'Banana'], function ($item) {
  return strlen($item) > 4;
}));
?>

Output:
Array
(
    [0] => Pear
    [1] => Kiwi
)

---
---
---
---