PHP: array_reduce() function
PHP: Iteratively reduce the array to a single value using a callback function
The array_reduce() function is used to reduce the array to a single value by iteratively using a user-supplied function.
Version:
(PHP 4 and above)
Syntax:
array_reduce(input_array, user_defined_function, initial_value)
Parameters:
Name
Description
Required /
Optional
Type
input_array
The input array.
Required
Array
user_defined_function
User-supplied function to accept values from the array.
Required

-

initial_value
Initial value to send to the function
Optional
Integer
Return value:
The resulting value.
Value Type: Mixed*
*Mixed: Mixed indicates multiple (but not necessarily all) types.
Example:
<?php
function addv($a, $b)
{
$a += $b;
return $a;
}
$z = array(1, 2,3,4,5);
$x=array_reduce($z,"addv");
echo $x;
?>

Output:
15
Pictorial Presentation: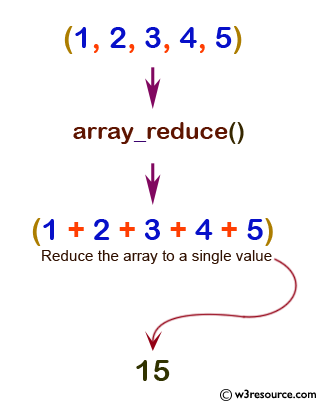 View the example in the browser
Practice here online :
See also
Previous: array_rand
Next: array_reverse

PHP: Tips of the Day
Filters the collection using the given callback
Example:
<?php
function tips_reject($items, $func)
{
  return array_values(array_diff($items, array_filter($items, $func)));
}

print_r(tips_reject(['Apple', 'Pear', 'Kiwi', 'Banana'], function ($item) {
  return strlen($item) > 4;
}));
?>

Output:
Array
(
    [0] => Pear
    [1] => Kiwi
)

---
---
---
---