PHP: natsort() function
PHP: Sort an array using a 'natural order' algorithm
The natsort() function is used to sorts an array using a "natural order" algorithm. The function implements a sort algorithm but maintains original keys/values.
This function implements a sort algorithm that orders alphanumeric strings in the way a human being would while maintaining key/value associations.
Version:
(PHP 4 and above)
Syntax:
natsort(array_name)
Parameter:
Name
Description
Required /
Optional
Type
array_name
The input array.
Required
Array
Return value:
TRUE on success or FALSE on failure.
Value Type: Boolean.
Example:
<?php
$php_files = array("code12.php", "code22.php",
"code2.php", "code3.php", "code1.php");
natsort($php_files);
echo "List of file using natural order: ";
print_r($php_files);
?>

Output:
List of file using natural order: Array ( [4] => code1.php [2] => code2.php [3] => code3.php [0] => code12.php [1] => code22.php )
Pictorial Presentation: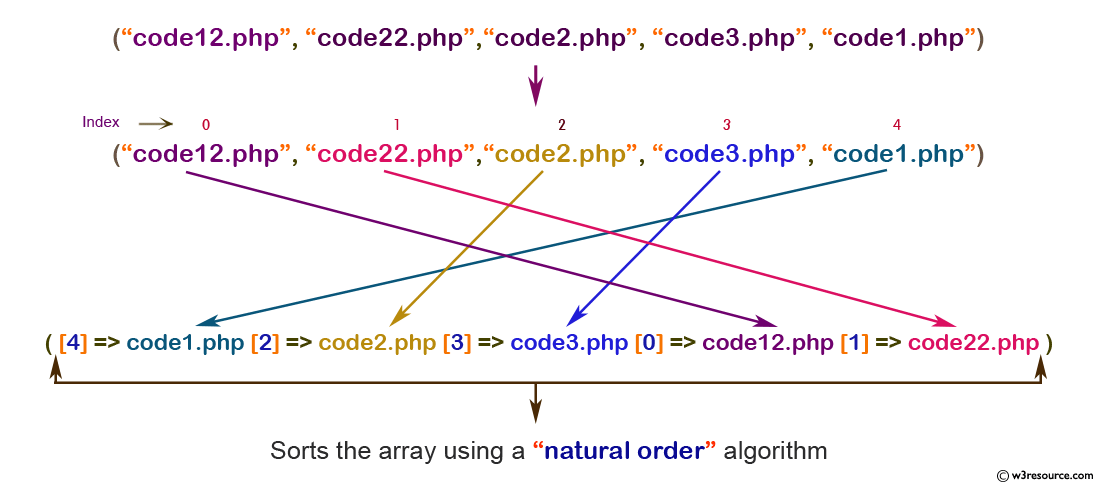 View the example in the browser
Practice here online:
See also
Previous: natcasesort
Next: next

---
---
---