JavaScript: Get an array of elements that appear in both arrays
JavaScript fundamental (ES6 Syntax): Exercise-144 with Solution
Write a JavaScript program to get an array of elements that appear in both arrays.
Use Array.prototype.includes() to determine values that are not part of values.
Use Array.prototype.filter() to remove them.
Sample Solution:
JavaScript Code:
//#Source https://bit.ly/2neWfJ2 
const similarity = (arr, values) => arr.filter(v => values.includes(v));

console.log(similarity([1, 2, 3], [1, 2, 4]));


Sample Output:

[1,2]

Pictorial Presentation:
Flowchart: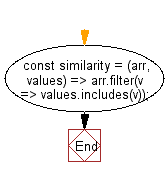 Live Demo:
See the Pen javascript-basic-exercise-144-1 by w3resource (@w3resource) on CodePen.
Improve this sample solution and post your code through Disqus
Previous: Write a JavaScript program to sort the characters of a string Alphabetically.
Next: Write a JavaScript program to randomize the order of the values of an array, returning a new array.
What is the difficulty level of this exercise?
Test your Programming skills with w3resource's quiz.

---
---
---