JavaScript: Insert a string within a specific position in another string
JavaScript String: Exercise-14 with Solution
Write a JavaScript function to insert a string within a string at a particular position (default is 1).
Test Data:
console.log(insert('We are doing some exercises.'));
console.log(insert('We are doing some exercises.','JavaScript '));
console.log(insert('We are doing some exercises.','JavaScript ',18));
"We are doing some exercises."
"JavaScript We are doing some exercises."
"We are doing some JavaScript exercises."
Pictorial Presentation: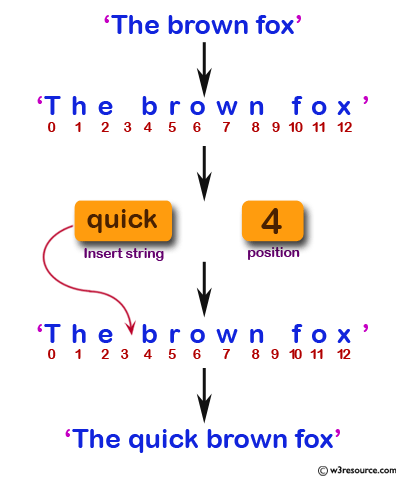 Sample Solution:-
HTML Code:
<!DOCTYPE html>
<html>
<head>
<meta charset="utf-8">
<title>Insert a string within a specific position in another string</title>
</head>
<body>
</body>
</html>


JavaScript Code:
insert = function insert(main_string, ins_string, pos) {
   if(typeof(pos) == "undefined") {
    pos = 0;
  }
   if(typeof(ins_string) == "undefined") {
    ins_string = '';
  }
   return main_string.slice(0, pos) + ins_string + main_string.slice(pos);
    }
console.log(insert('We are doing some exercises.'));
console.log(insert('We are doing some exercises.','JavaScript '));
console.log(insert('We are doing some exercises.','JavaScript ',18));


Sample Output:
We are doing some exercises.
JavaScript We are doing some exercises.
We are doing some JavaScript exercises.

Flowchart:

Live Demo:
See the Pen JavaScript Insert a string within a specific position in another string - string-ex-14 by w3resource (@w3resource) on CodePen.
Improve this sample solution and post your code through Disqus
Previous: Write a JavaScript function to concatenates a given string n times (default is 1).
Next: Write a JavaScript function to humanized number (Formats a number to a human-readable string.) with the correct suffix such as 1st, 2nd, 3rd or 4th.
What is the difficulty level of this exercise?

---
JavaScript: Tips of the Day
JavaScript: eval function
const sum = eval('10*10+5');

eval evaluates codes that's passed as a string. If it's an expression, like in this case, it evaluates the expression. The expression is 10 * 10 + 5. This returns the number 105.
Ref: https://bit.ly/323Y0P6
---
New Content published on w3resource :
---
---
---