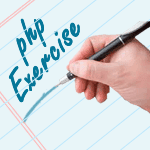 PHP String Exercises: Print letters from 'a' to 'z'
PHP String: Exercise-26 with Solution
Write a PHP script to print letters from 'a' to 'z'.
Pictorial Presentation:

Sample Solution:
PHP Code:
<?php
for ($x = ord('a'); $x <= ord('z'); $x++)
 echo chr($x);
 echo "\n"
?>


Sample Output:
abcdefghijklmnopqrstuvwxyz

Flowchart :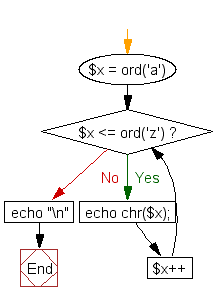 PHP Code Editor:
Have another way to solve this solution? Contribute your code (and comments) through Disqus.
Previous: Write a PHP script to remove comma(s) from the specified numeric string.
Next: PHP Math functions Exercises Home.
What is the difficulty level of this exercise?

New Content: Composer: Dependency manager for PHP, R Programming
---