Python: Function that takes a sequence of numbers and determines whether all are different from each other
Python Basic - 1: Exercise-1 with Solution
Write a Python function that takes a sequence of numbers and determines whether all the numbers are different from each other.
Pictorial Presentation: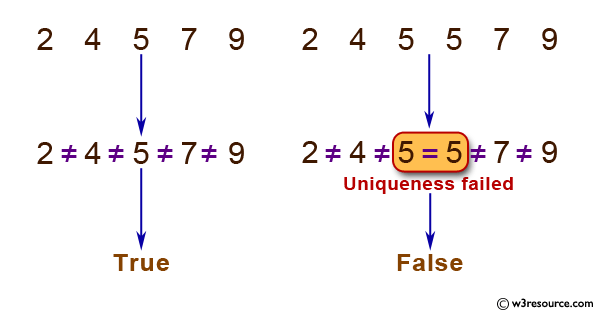 Sample Solution:
Python Code :
def test_distinct(data):
  if len(data) == len(set(data)):
    return True
  else:
    return False;
print(test_distinct([1,5,7,9]))
print(test_distinct([2,4,5,5,7,9]))

Sample Output:

True
False

Flowchart: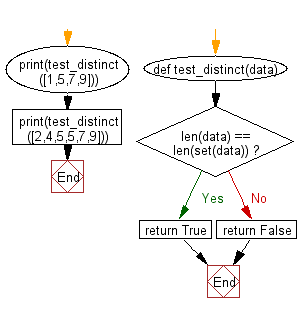 Python Code Editor :
Have another way to solve this solution? Contribute your code (and comments) through Disqus.
Previous: Basic - Part-I.
Next: Write a Python program to create all possible strings by using 'a', 'e', 'i', 'o', 'u'. Use the characters exactly once.
What is the difficulty level of this exercise?
Test your Programming skills with w3resource's quiz.

---
---
---