NumPy: Create an empty and a full array
NumPy: Array Object Exercise-13 with Solution
Write a NumPy program to create an empty and a full array.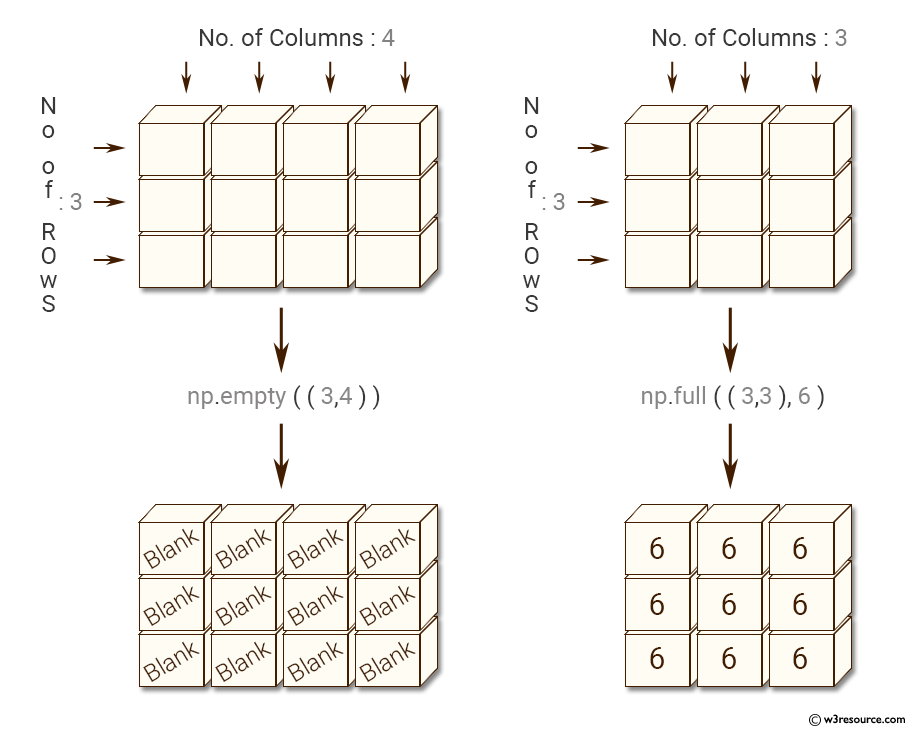 Sample Solution:-
Python Code:
import numpy as np
# Create an empty array
x = np.empty((3,4))
print(x)
# Create a full array
y = np.full((3,3),6)
print(y)


Sample Output:
[[  6.93643969e-310   8.76783124e-317   6.93643881e-310   6.79038654e-31
3]                                                                      
 [  2.22809558e-312   2.14321575e-312   2.35541533e-312   2.42092166e-32
2]                                                                      
 [  7.46824097e-317   9.08479214e-317   2.46151512e-312   2.41907520e-31
2]]                                                                     
[[6 6 6]                                                                
 [6 6 6]                                                                
 [6 6 6]]

Python Code Editor:
Have another way to solve this solution? Contribute your code (and comments) through Disqus.
Previous: Write a NumPy program to append values to the end of an array.
Next: Write a NumPy program to convert the values of Centigrade degrees into Fahrenheit degrees. Centigrade values are stored into a NumPy array.
What is the difficulty level of this exercise?
Test your Python skills with w3resource's quiz

Python: Tips of the Day
Set comprehension:
>>> m = {x ** 2 for x in range(5)}
>>> m
{0, 1, 4, 9, 16}

---
New Content published on w3resource:
---
---