Python: List home directory without absolute path
Python Basic: Exercise-132 with Solution
Write a Python program to list home directory without absolute path.
Sample Solution:-
Python Code:
import os.path
print(os.path.expanduser('~'))


Sample Output:
/home/students

Flowchart: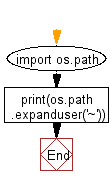 Python Code Editor:
Have another way to solve this solution? Contribute your code (and comments) through Disqus.
Previous: Write a Python program to split a variable length string into variables.
Next: Write a Python program to calculate the time runs (difference between start and current time)of a program.
What is the difficulty level of this exercise?
Test your Python skills with w3resource's quiz

Python: Tips of the Day
List comprehension:
>>> m = [x ** 2 for x in range(5)]
>>> m
[0, 1, 4, 9, 16]

---
New Content published on w3resource:
---
---