Python: Get the current username
Python Basic: Exercise-54 with Solution
Write a Python program to get the current username.
Sample Solution:-
Python Code:
import getpass
print(getpass.getuser())


Sample Output:
trinket

Flowchart: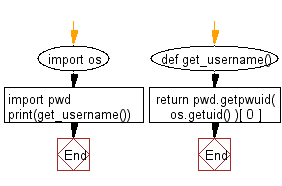 Python Code Editor:
Have another way to solve this solution? Contribute your code (and comments) through Disqus.
Previous: Write a python program to access environment variables.
Next: Write a Python to find local IP addresses using Python's stdlib.
What is the difficulty level of this exercise?
Test your Python skills with w3resource's quiz

Python: Tips of the Day
Try-catch-else construct:
try:
  foo() 
except Exception: 
  print("Exception occured")
else:
  print("Exception didnt occur")
finally:
  print("Always gets here")

---
New Content published on w3resource:
---
---