Python Exercise: Check whether a string is a pangram or not
Python Functions: Exercise-14 with Solution
Write a Python function to check whether a string is a pangram or not.
Note : Pangrams are words or sentences containing every letter of the alphabet at least once.
For example : "The quick brown fox jumps over the lazy dog"
Sample Solution:-
Python Code:
import string, sys
def ispangram(str1, alphabet=string.ascii_lowercase):
    alphaset = set(alphabet)
    return alphaset <= set(str1.lower())
 
print ( ispangram('The quick brown fox jumps over the lazy dog')) 


Sample Output:
True

Pictorial presentation:
Flowchart: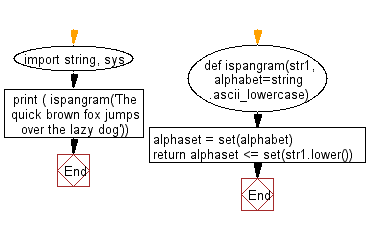 Python Code Editor:
Have another way to solve this solution? Contribute your code (and comments) through Disqus.
Previous: Write a Python function that that prints out the first n rows of Pascal's triangle.
Next: Write a Python program that accepts a hyphen-separated sequence of words as input and prints the words in a hyphen-separated sequence after sorting them alphabetically.
What is the difficulty level of this exercise?
Test your Programming skills with w3resource's quiz.

Python: Tips of the Day
Decapitalizes the first letter of a string:
Example:
def tips_decapitalize(s, upper_rest=False):
  return s[:1].lower() + (s[1:].upper() if upper_rest else s[1:])
print(tips_decapitalize('PythonTips'))
print(tips_decapitalize('PythonTips', True)) 

Output:
pythonTips
pYTHONTIPS

---
New Content published on w3resource:
---
---