Python: Find all adverbs and their positions in a given sentence
Python Regular Expression: Exercise-46 with Solution
Write a Python program to find all adverbs and their positions in a given sentence.
Sample Solution:-
Python Code:
import re
text = "Clearly, he has no excuse for such behavior."
for m in re.finditer(r"\w+ly", text):
    print('%d-%d: %s' % (m.start(), m.end(), m.group(0)))
	

Sample Output:
0-7: Clearly 

Flowchart: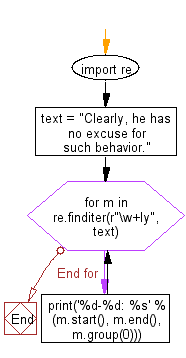 Visualize Python code execution:
The following tool visualize what the computer is doing step-by-step as it executes the said program:
Python Code Editor:
Have another way to solve this solution? Contribute your code (and comments) through Disqus.
Previous: Write a Python program to remove the ANSI escape sequences from a string.
Next: Write a Python program to split a string with multiple delimiters.
What is the difficulty level of this exercise?

New Content published on w3resource :
---