Ruby Basic Exercises: Find the maximum of two numbers
Ruby Basic: Exercise-18 with Solution
Write a Ruby program to find the maximum of two numbers.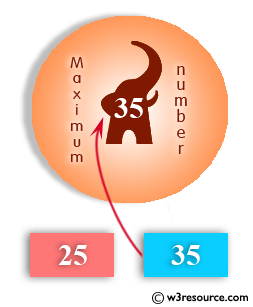 Ruby Code:
x= 6
y =8
max = x>y ? x:y
puts "Max = "+max.to_s

Output:
Max = 8

Flowchart: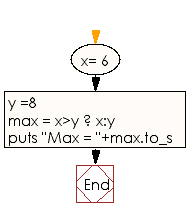 Ruby Code Editor:

Contribute your code and comments through Disqus.

Previous: Write a Ruby program to compute the absolute difference between n and 33 and return double the absolute difference if n is over 33.
Next: Write a Ruby program to check two integers and return true if one of them is 20 otherwise return their sum.

What is the difficulty level of this exercise?


---
New Content published on w3resource:
---