SQL: Display the name and price of all the items with a price is equal or more than Rs.250 in ascending order
SQL Basic Select Statement: Exercise-28 with Solution.
From the following table, write a SQL query to find the items whose prices are higher than or equal to $250. Order the result by product price in descending, then product name in ascending. Return pro_name and pro_price.
Sample table: item_mast
Sample Solution:
SELECT pro_name, pro_price 
     FROM item_mast
    WHERE pro_price >= 250
 ORDER BY pro_price DESC, pro_name;

Output of the Query:
pro_name	   pro_price
Monitor	        5000.00
Mother Board	3200.00
Printer	        2600.00
DVD drive	     900.00
CD drive	     800.00
Speaker	         550.00
Key Board	     450.00
Refill cartridge 350.00
Mouse	         250.00
ZIP drive	     250.00

Relational Algebra Expression:
Relational Algebra Tree:
Practice Online
Query Visualization:
Duration: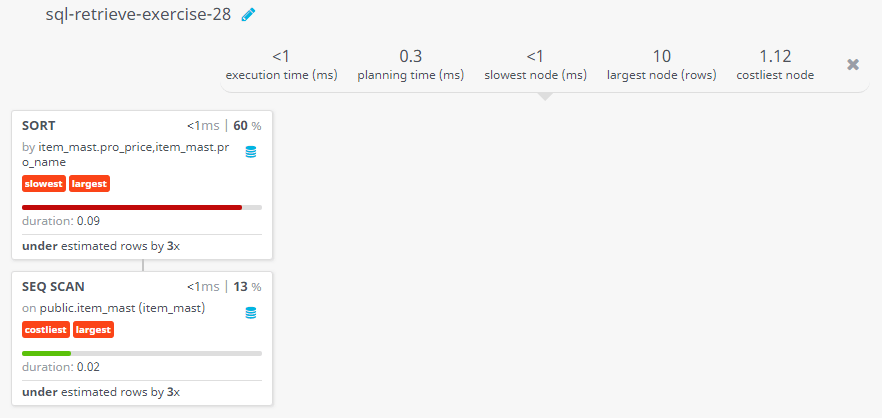 Rows: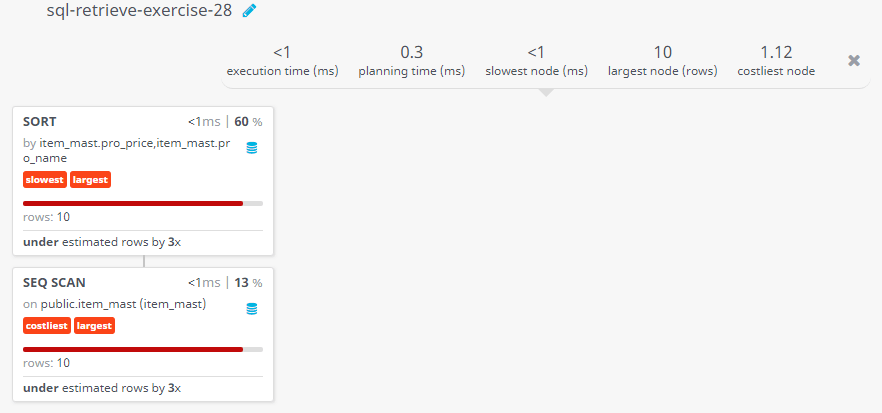 Cost: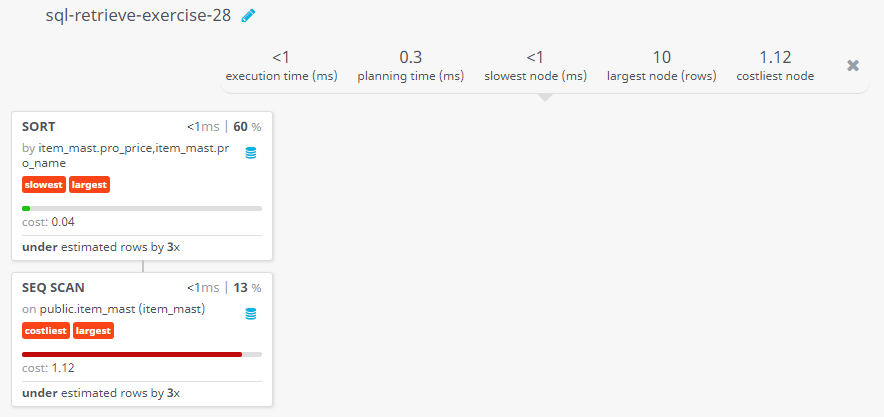 Have another way to solve this solution? Contribute your code (and comments) through Disqus.
Previous: From the following table, write a SQL query to display the pro_name as 'Item Name' and pro_priceas 'Price in Rs.'
Next: From the following table, write a SQL query to calculate average price of the items of each company. Return average price and company code.
Test your Programming skills with w3resource's quiz.
What is the difficulty level of this exercise?

SQL: Tips of the Day
Can a foreign key be NULL and/or duplicate?
First remember a Foreign key simply requires that the value in that field must exist first in a different table (the parent table). That is all an Foreign key is by definition. Null by definition is not a value. Null means that we do not yet know what the value is.
Ref: https://bit.ly/3uVu3OS
---
Exercises: Weekly Top 12 Most Popular Topics
---
---