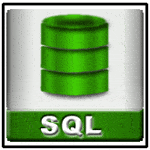 SQL UNION Exercises: Produces the name and number of each salesman and each customer with more than one current order
SQL UNION: Exercise-9 with Solution
9. Write a query that produces the name and number of each salesman and each customer with more than one current order. Put the results in alphabetical order.
Sample table: customer
Sample table: salesman
Sample table: orders
Sample Solution:
SELECT customer_id,  cust_name
	FROM customer a
	WHERE 1<
		(SELECT COUNT (*)
		   FROM orders b
		   WHERE a.customer_id = b.customer_id)
UNION
(SELECT salesman_id, name
	FROM salesman a
	WHERE 1 <
		(SELECT COUNT (*)
		 FROM orders b
		 WHERE  a.salesman_id = b.salesman_id))
ORDER BY 2

Sample Output:
customer_id	cust_name
3009		Geoff Cameron
3005		Graham Zusi
5001		James Hoog
5003		Lauson Hen
5002		Nail Knite
3002		Nick Rimando

Practice Online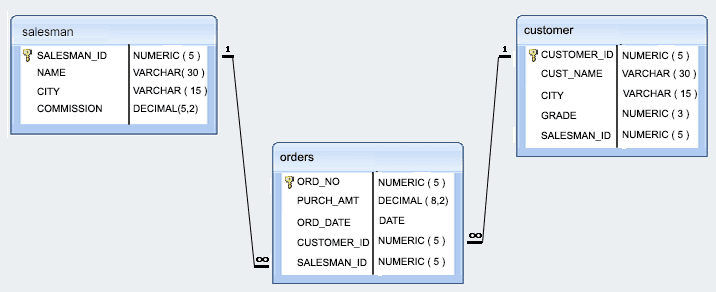 Query Visualization:
Duration: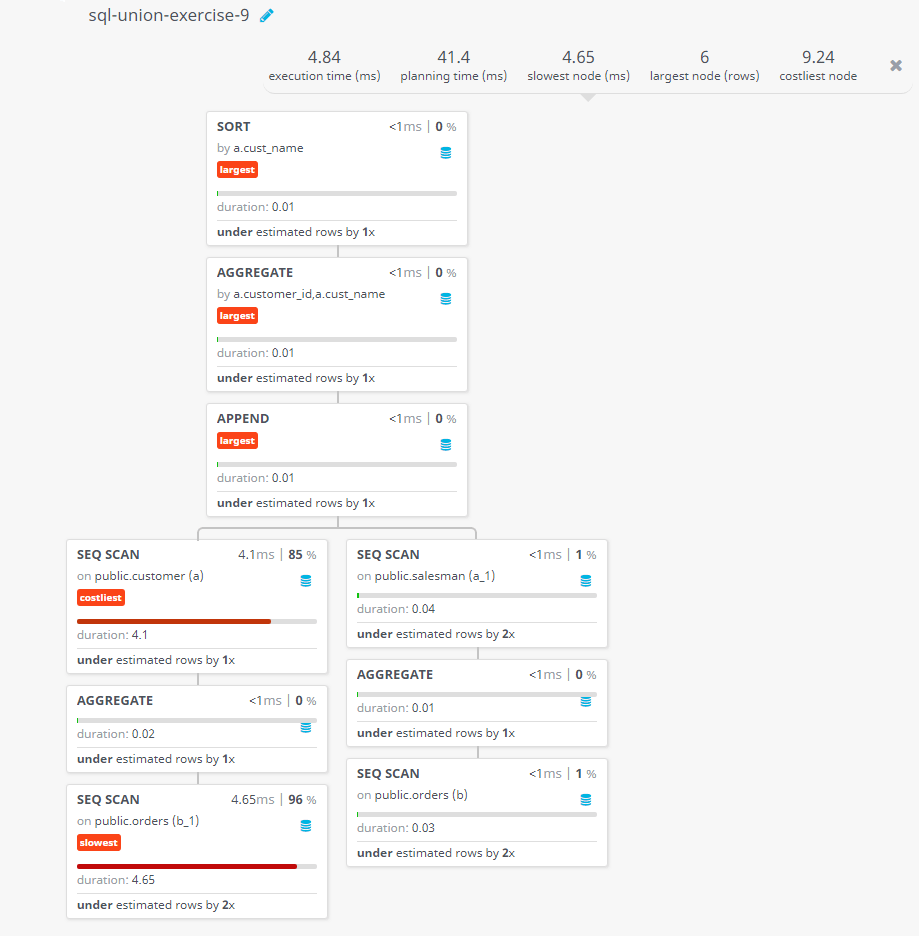 Rows: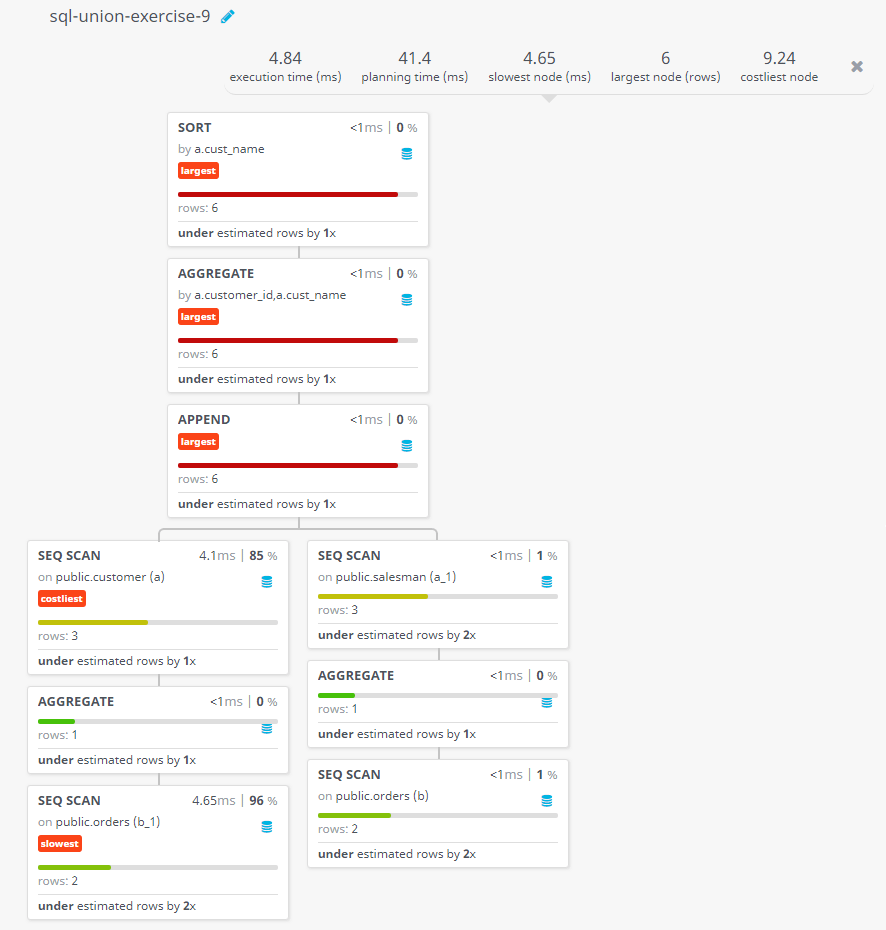 Cost: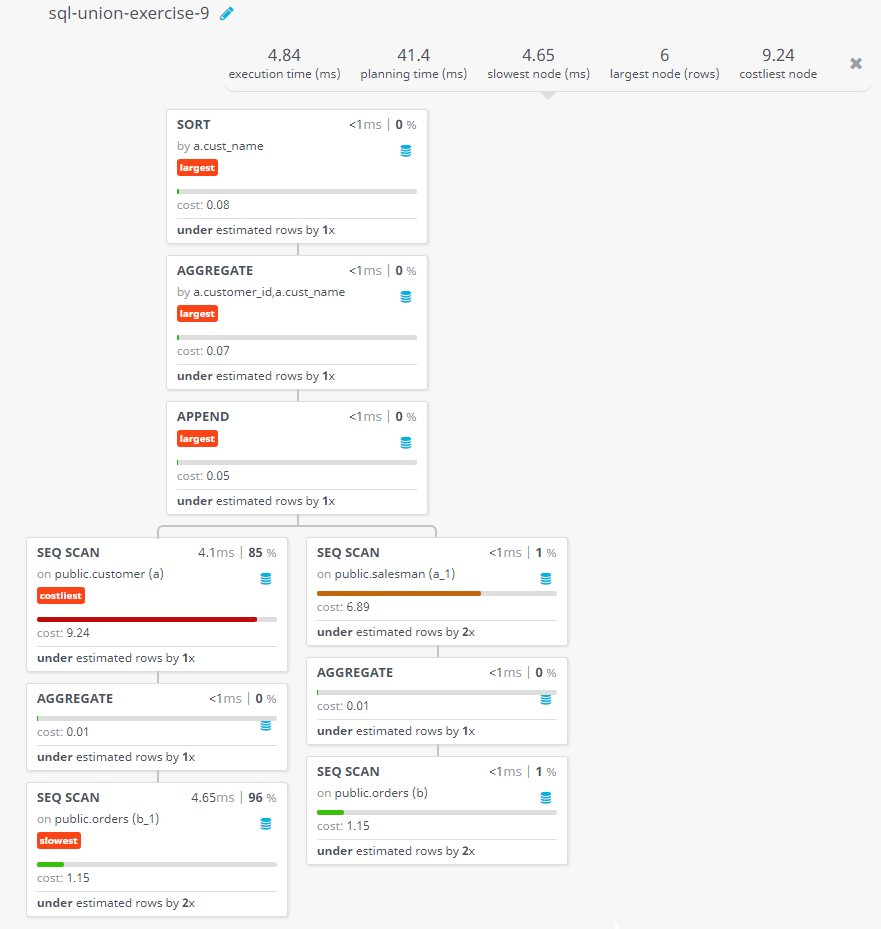 Have another way to solve this solution? Contribute your code (and comments) through Disqus.
Previous: Write a query to create a union of two queries that shows the names, cities, and ratings of all customers. Those with a rating of 300 or greater will also have the words High Rating, while the others will have the words Low Rating.
Next: SQL VIEW Exercises Home
What is the difficulty level of this exercise?

New Content: Composer: Dependency manager for PHP, R Programming
---