JavaScript: Redirect to a specified URL
JavaScript: Exercise-157 with Solution
Write a JavaScript program to redirect to a specified URL.
Use Window.location.href or Window.location.replace() to redirect to url.
Pass a second argument to simulate a link click (true - default) or an HTTP redirect (false).
Sample Solution:
JavaScript Code:
//#Source https://bit.ly/2neWfJ2 
const redirect = (url, asLink = true) =>
  asLink ? (window.location.href = url) : window.location.replace(url);
redirect('https://google.com');


Flowchart: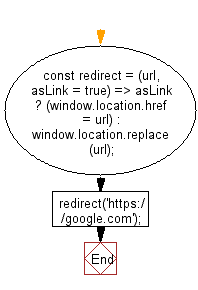 Live Demo:
See the Pen javascript-basic-exercise-156-1 by w3resource (@w3resource) on CodePen.
Improve this sample solution and post your code through Disqus
Previous: Write a JavaScript program to apply a function against an accumulator and each element in the array (from left to right), returning an array of successively reduced values.
Next: Write a JavaScript program to create a function that invokes the provided function with its arguments arranged according to the specified indexes.
What is the difficulty level of this exercise?
Test your Programming skills with w3resource's quiz.

---
---
---