JavaScript: Get the native type of a value
JavaScript fundamental (ES6 Syntax): Exercise-220 with Solution
Write a JavaScript program to get the native type of a value. Returns the lowercased constructor name of value, "undefined" or "null" if value is undefined or null.
Return 'undefined' or 'null' if the value is undefined or null.
Otherwise, use Object.prototype.constructor.name to get the name of the constructor.
Sample Solution:
JavaScript Code:
//#Source https://bit.ly/2neWfJ2 
const getType = v =>
  v === undefined ? 'undefined' : v === null ? 'null' : v.constructor.name.toLowerCase();
console.log(getType(new Set([1, 2, 3])));


Sample Output:

set

Flowchart: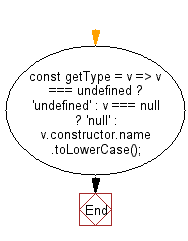 Live Demo:
See the Pen javascript-basic-exercise-220-1 by w3resource (@w3resource) on CodePen.
Improve this sample solution and post your code through Disqus
Previous: Write a JavaScript program to calculate the Hamming distance between two values.
Next: Write a JavaScript program to get a string of the form HH:MM:SS from a Date object.
What is the difficulty level of this exercise?
Test your Programming skills with w3resource's quiz.

---
---
---