JavaScript: Convert a string from camelcase
JavaScript fundamental (ES6 Syntax): Exercise-229 with Solution
Write a JavaScript program to convert a string from camelcase.
Use String.prototype.replace() to break the string into words and add a separator between them.
Omit the second argument to use a default separator of _.
Sample Solution:
JavaScript Code:
//#Source https://bit.ly/2neWfJ2 
const fromCamelCase = (str, separator = '_') =>
  str
    .replace(/([a-z\d])([A-Z])/g, '$1' + separator + '$2')
    .replace(/([A-Z]+)([A-Z][a-z\d]+)/g, '$1' + separator + '$2')
    .toLowerCase();

console.log(fromCamelCase('someDatabaseFieldName', ' '));
console.log(fromCamelCase('someLabelThatNeedsToBeCamelized', '-'));
console.log(fromCamelCase('someJavascriptProperty', '_'));


Sample Output:

some database field name
some-label-that-needs-to-be-camelized
some_javascript_property

Pictorial Presentation:
Flowchart: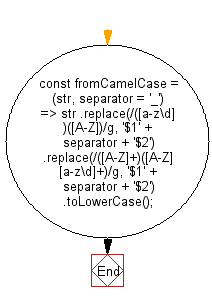 Live Demo:
See the Pen javascript-basic-exercise-229-1 by w3resource (@w3resource) on CodePen.
Improve this sample solution and post your code through Disqus
Previous: Write a JavaScript program to log the name of a function.
Next: Write a JavaScript program to get the human readable format of the given number of milliseconds.
What is the difficulty level of this exercise?
Test your Programming skills with w3resource's quiz.

---
---
---