JavaScript: Get a part of string after a specified character
JavaScript String: Exercise-22 with Solution
Write a JavaScript function to get a part of string after a specified character.
Test Data:
console.log(subStrAfterChars('w3resource: JavaScript Exercises', ':','a'));
console.log(subStrAfterChars('w3resource: JavaScript Exercises', 'E','b'));
Output:
"w3resource"
"xercises"
Sample Solution:-
HTML Code:
<!DOCTYPE html>
<html>
<head>
  <meta charset="utf-8">
  <title>Write a JavaScript function to get a part of string after a specified character.</title>
</head>
<body>

</body>
</html>


JavaScript Code:
function subStrAfterChars(str, char, pos)
{
  if(pos=='b')
   return str.substring(str.indexOf(char) + 1);
  else if(pos=='a') 
   return str.substring(0, str.indexOf(char));
  else
  return str;  
}

console.log(subStrAfterChars('w3resource: JavaScript Exercises', ':','a'));

console.log(subStrAfterChars('w3resource: JavaScript Exercises', 'E','b'));


Sample Output:
w3resource
xercises

Flowchart: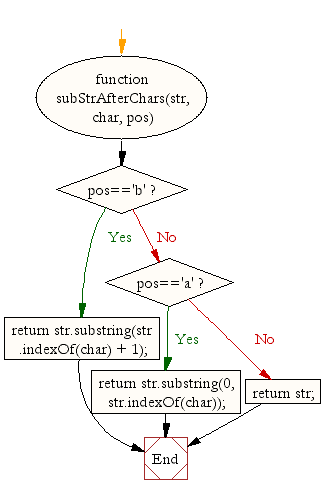 Live Demo:
See the Pen JavaScript Get a part of string after a specified character - string-ex-22 by w3resource (@w3resource) on CodePen.
Improve this sample solution and post your code through Disqus
Previous: Write a JavaScript function to repeat a string a specified times.
Next: Write a JavaScript function to strip leading and trailing spaces from a string.
What is the difficulty level of this exercise?

---
JavaScript: Tips of the Day
JavaScript: eval function
const sum = eval('10*10+5');

eval evaluates codes that's passed as a string. If it's an expression, like in this case, it evaluates the expression. The expression is 10 * 10 + 5. This returns the number 105.
Ref: https://bit.ly/323Y0P6
---
New Content published on w3resource :
---
---
---