JavaScript: Check a string is in Pascal case
JavaScript String: Exercise-56 with Solution
A PascalCase naming convention capitalizes the first letter of each compound word in a variable. It is a best practice in software development to use descriptive variable names.
Write a JavaScript function to check whether a string is in Pascal case or not.
Test Data:
("XmlStream") -> true
("IOStream") -> true
("javascript") -> false
(12356) -> "It must be a string."
Sample Solution:
HTML Code:
<!DOCTYPE html>
<html>
<head>
  <meta charset="utf-8">
  <title>JavaScript function to check a string is in Pascal case</title>
</head>
<body>

</body>
</html>


JavaScript Code:
const test = (word) => {
  if (typeof word !== 'string')
  {
    return 'It must be a string.'
  }
  const pattern = /^[A-Z][A-Za-z]*$/
  return pattern.test(word)
}
console.log(test("XmlStream"))
console.log(test("IOStream"))
console.log(test("IEnumerable"))
console.log(test("javascript"))
console.log(test(12356))


Sample Output:
true
true
true
false
It must be a string.

Flowchart: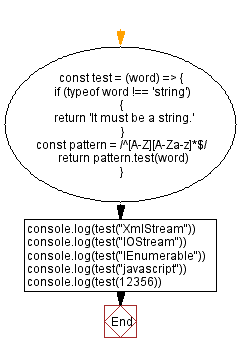 Live Demo:
See the Pen javascript-string-exercise-56 by w3resource (@w3resource) on CodePen.
Improve this sample solution and post your code through Disqus
Previous: Check a string is a Pangram or not.
Next: Rearrange a string to become a palindrome.
What is the difficulty level of this exercise?
Test your Programming skills with w3resource's quiz.

JavaScript: Tips of the Day
function and arguments
const person = {
  name: 'Lydia Hallie',
  hobbies: ['coding'],
};

function addHobby(hobby, hobbies = person.hobbies) {
  hobbies.push(hobby);
  return hobbies;
}

addHobby('running', []);
addHobby('dancing');
addHobby('baking', person.hobbies);

console.log(person.hobbies);

The addHobby function receives two arguments, hobby and hobbies with the default value of the hobbies array on the person object.
First, we invoke the addHobby function, and pass "running" as the value for hobby and an empty array as the value for hobbies. Since we pass an empty array as the value for y, "running" gets added to this empty array.
Then, we invoke the addHobby function, and pass "dancing" as the value for hobby. We didn't pass a value for hobbies, so it gets the default value, the hobbies property on the person object. We push the hobby dancing to the person.hobbies array.
Last, we invoke the addHobby function, and pass "bdaking" as the value for hobby, and the person.hobbies array as the value for hobbies. We push the hobby baking to the person.hobbies array.
After pushing dancing and baking, the value of person.hobbies is ["coding", "dancing", "baking"]
Ref: https://bit.ly/2Hcpkm6
---
Exercises: Weekly Top 16 Most Popular Topics
---
---