▼MySQL Aggregate Functions and Grouping - max()
MySQL MAX() function
MAX() function
MySQL MAX() function returns the maximum value of an expression.
This function is useful in -
To identify the highest value within a column is crucial for understanding the upper limit of a dataset.
When analyzing data, you might want to know the highest or peak value in a certain attribute.
The MAX() function helps evaluate the highest performance metrics, such as maximum revenue, profits, or user engagement.
Identifying the maximum value helps in assessing whether a process is operating within acceptable limits.
When comparing performance against benchmarks, the MAX() function assists in determining how close or far data is from the best achieved results.
In e-commerce or inventory management, determining the maximum order quantity helps in fulfilling customer demands efficiently.
For critical decisions, knowing the maximum value in relevant data attributes can provide insights for strategic planning.
Syntax:

MAX(expr);

Where expr is an expression.
MySQL Version: 8.0
Example:
Sample table: book_mast
Code:
SELECT MAX(book_price)
FROM book_mast;


Relational Algebra Expression:

Relational Algebra Tree: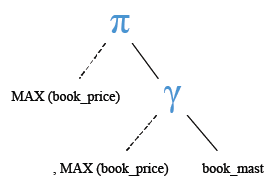 Explanation:
The above MySQL statement will return the maximum 'book_price' from 'book_mast' table.
Output:

mysql> SELECT MAX(book_price)
    -> FROM book_mast;
+-----------------+
| MAX(book_price) |
+-----------------+
|          250.00 | 
+-----------------+
1 row in set (0.00 sec)

Previous: GROUP_CONCAT()
Next: Max() with group by

---
---
---
We are closing our Disqus commenting system for some maintenanace issues. You may write to us at reach[at]yahoo[dot]com or visit us at Facebook