PHP Exercises: Test if a given string occurs at the end of another given string
PHP: Exercise-36 with Solution
Write a PHP program to test if a given string occurs at the end of another given string.
Sample Solution: -
PHP Code:
<?php
function str2_in_str1($str1, $str2) {
  $p_len = strlen($str2);
   $w_len = strlen($str1);
   $w_start = $w_len-$p_len-1;
   if (substr($str1, $w_len-$p_len, $p_len) == $str2) {
      return "true";
   } 
   else 
   {
      return "false";
   }
}
echo str2_in_str1("Python","on")."\n";
echo str2_in_str1("JavaScript","php")."\n";
?>


Sample Output:
true                                                        
false        

Flowchart: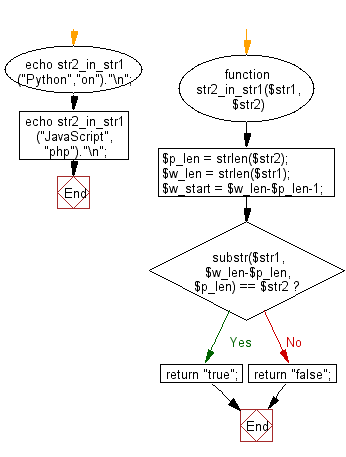 PHP Code Editor:
Have another way to solve this solution? Contribute your code (and comments) through Disqus.
Previous: Write a PHP program to remove duplicates from a sorted list.
Next: Write a PHP program to compute the sum of the prime numbers less than 100.
What is the difficulty level of this exercise?
Test your Programming skills with w3resource's quiz.

PHP: Tips of the Day
Returns all elements in an array except for the first one
Example:
<?php
function tips_tail($items)
{
  return count($items) > 1 ? array_slice($items, 1) : $items;
}

print_r(tips_tail([1, 5, 7]));
?> 

Output:
Array
(
    [0] => 5
    [1] => 7
)

---
---
---
---