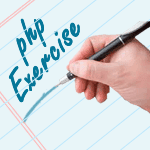 PHP Date Exercises : Convert a date from yyyy-mm-dd to dd-mm-yyyy
PHP date: Exercise-5 with Solution
Write a PHP script to convert a date from yyyy-mm-dd to dd-mm-yyyy.
Sample date : 2012-09-12
Sample Solution:
PHP Code:
<?php
$odate = "2012-09-12";
$newDate = date("d-m-Y", strtotime($odate));
echo $newDate."\n";
?>


Sample Output:
12-09-2012

Flowchart :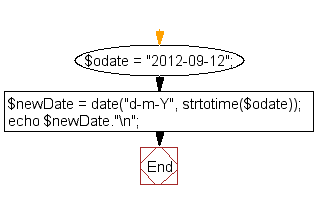 PHP Code Editor:
Have another way to solve this solution? Contribute youe code (and comments) through Disqus.

---