Python: Create the combinations of 3 digit combo
Python Basic - 1: Exercise-5 with Solution
Write a Python program to make combinations of 3 digits.
Sample Solution:
Python Code :
numbers = []
for num in range(1000):
  num=str(num).zfill(3)
print(num)
numbers.append(num)

Sample Output:

999

Pictorial Presentation:
Flowchart: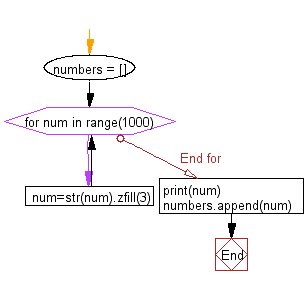 Python Code Editor :
Have another way to solve this solution? Contribute your code (and comments) through Disqus.
Previous: Write a Python program to find unique triplets whose three elements gives the sum of zero from an array of n integers.
Next: Write a Python program to print a long text, convert the string to a list and print all the words and their frequencies.
What is the difficulty level of this exercise?
Test your Programming skills with w3resource's quiz.

---
---
---