Python: Add 5 seconds with the current time
Python datetime: Exercise-10 with Solution
Write a Python program to add 5 seconds to the current time.
Sample Solution:
Python Code:
import datetime
x= datetime.datetime.now()
y = x + datetime.timedelta(0,5)
print(x.time())
print(y.time())


Sample Output:

12:37:43.350241                                                                                               
12:37:48.350241 

Flowchart: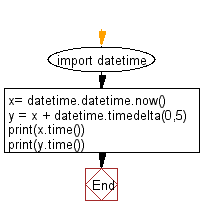 Python Code Editor:
Contribute your code and comments through Disqus.
Previous: Write a Python program to print next 5 days starting from today.
Next: Write a Python program to convert Year/Month/Day to Day of Year.
What is the difficulty level of this exercise?
Test your Programming skills with w3resource's quiz.

---
---
---