Python: Calculates the date six months from the current date
Python Datetime: Exercise-26 with Solution
Write a Python program that calculates the date six months from the current date using the datetime module.
Sample Solution:
Python Code:
import datetime
print((datetime.date.today() + datetime.timedelta(6*365/12)).isoformat())


Sample Output:

2017-11-04

Flowchart: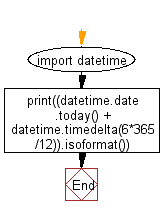 Python Code Editor:
Contribute your code and comments through Disqus.
Previous: Write a Python program to print a string five times, delay three seconds.
Next: Write a Python program to create 12 fixed dates from a specified date over a given period. The difference between two dates will be 20.
What is the difficulty level of this exercise?
Test your Programming skills with w3resource's quiz.

---
---
---