Python: Find the list of words that are longer than n from a given list of words
Python List: Exercise-10 with Solution
Write a Python program to find the list of words that are longer than n from a given list of words.
Sample Solution:-
Python Code:
def long_words(n, str):
    word_len = []
    txt = str.split(" ")
    for x in txt:
        if len(x) > n:
            word_len.append(x)
    return word_len	
print(long_words(3, "The quick brown fox jumps over the lazy dog"))


Sample Output:
['quick', 'brown', 'jumps', 'over', 'lazy']

Pictorial Presentation:
Flowchart: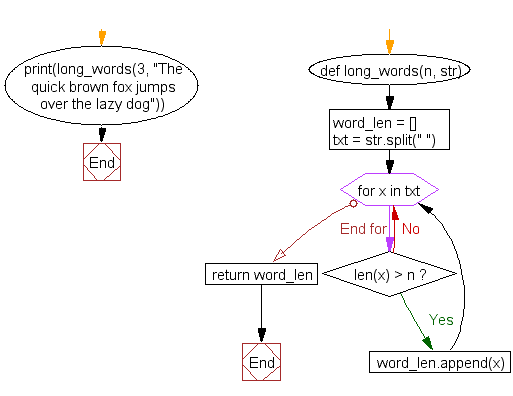 Visualize Python code execution:
The following tool visualize what the computer is doing step-by-step as it executes the said program:
Python Code Editor:
Have another way to solve this solution? Contribute your code (and comments) through Disqus.
Previous: Write a Python program to clone or copy a list.
Next: Write a Python function that takes two lists and returns True if they have at least one common member.
What is the difficulty level of this exercise?

---
---
Inviting useful, relevant, well-written and unique guest posts
---
New Content published on w3resource :
---