Python: Round every number of a given list of numbers and print the total sum multiplied by the length of the list
Python List: Exercise - 83 with Solution
Write a Python program to round every number of a given list of numbers and print the total sum multiplied by the length of the list.
Sample Solution:
Python Code:
nums = [22.4, 4.0, -16.22, -9.10, 11.00, -12.22, 14.20, -5.20, 17.50]
print("Original list: ", nums)
print("Result:")
lenght=len(nums)
print(sum(list(map(round,nums))* lenght)) 


Sample Output:
Original list:  [22.4, 4.0, -16.22, -9.1, 11.0, -12.22, 14.2, -5.2, 17.5]
Result:
243

Pictorial Presentation: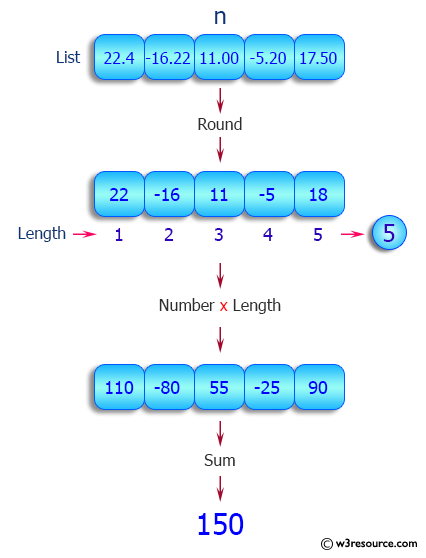 Flowchart: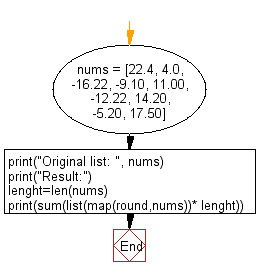 Visualize Python code execution:
The following tool visualize what the computer is doing step-by-step as it executes the said program:
Python Code Editor:
Have another way to solve this solution? Contribute your code (and comments) through Disqus.
Previous: Write a Python program to generate the combinations of n distinct objects taken from the elements of a given list.
Next: Write a Python program to round the numbers of a given list, print the minimum and maximum numbers and multiply the numbers by 5. Print the unique numbers in ascending order separated by space.
What is the difficulty level of this exercise?
Test your Python skills with w3resource's quiz

Python: Tips of the Day
Floor Division:
When we speak of division we normally mean (/) float division operator, this will give a precise result in float format with decimals.
For a rounded integer result there is (//) floor division operator in Python. Floor division will only give integer results that are round numbers.
print(1000 // 300)
print(1000 / 300)
Output:
3
3.3333333333333335
---
New Content published on w3resource:
---
---