Python: Extract the filename from a given path
Python Basic: Exercise-103 with Solution
Write a Python program to extract the filename from a given path.
Sample Solution:-
Python Code:
import os
print()
print(os.path.basename('/users/system1/student1/homework-1.py'))
print()


Sample Output:
homework-1.py 
Flowchart: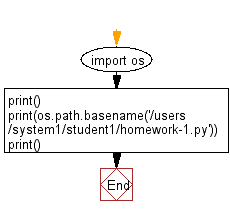 Python Code Editor:
Have another way to solve this solution? Contribute your code (and comments) through Disqus.
Previous: Write a Python program to get system command output.
Next: Write a Python program to get the effective group id, effective user id, real group id, a list of supplemental group ids associated with the current process.
What is the difficulty level of this exercise?
Test your Python skills with w3resource's quiz

Python: Tips of the Day
Try-catch-else construct:
try:
  foo() 
except Exception: 
  print("Exception occured")
else:
  print("Exception didnt occur")
finally:
  print("Always gets here")

---
New Content published on w3resource:
---
---