Python: Find the maximum and minimum numbers from a sequence of numbers
Python Basic: Exercise-148 with Solution
Write a Python function to find the maximum and minimum numbers from a sequence of numbers.
Note: Do not use built-in functions.
Sample Solution :-
Python Code :
def max_min(data):
  l = data[0]
  s = data[0]
  for num in data:
    if num> l:
      l = num
    elif num< s:
        s = num
  return l, s

print(max_min([0, 10, 15, 40, -5, 42, 17, 28, 75]))

Sample Output:
(75, -5)

Pictorial Presentation: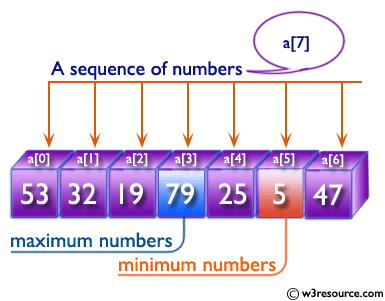 Flowchart:
Visualize Python code execution:
The following tool visualize what the computer is doing step-by-step as it executes the said program:
Python Code Editor :
Have another way to solve this solution? Contribute your code (and comments) through Disqus.
Previous: Write a Python function to check whether a number is divisible by another number. Accept two integers values form the user.
Next: Write a Python function that takes a positive integer and returns the sum of the cube of all the positive integers smaller than the specified number.
What is the difficulty level of this exercise?
Test your Python skills with w3resource's quiz

Python: Tips of the Day
List comprehension:
>>> m = [x ** 2 for x in range(5)]
>>> m
[0, 1, 4, 9, 16]

---
New Content published on w3resource:
---
---