Python: Get a string which is n (non-negative integer) copies of a given string
Python Basic: Exercise-20 with Solution
Write a Python program to get a string which is n (non-negative integer) copies of a given string.
Pictorial Presentation: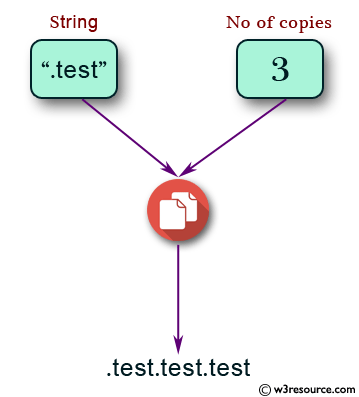 Sample Solution:-
Python Code:
def larger_string(str, n):
   result = ""
   for i in range(n):
      result = result + str
   return result

print(larger_string('abc', 2))
print(larger_string('.py', 3))


Sample Output:
abcabc                                                                                                        
.py.py.py 

Flowchart: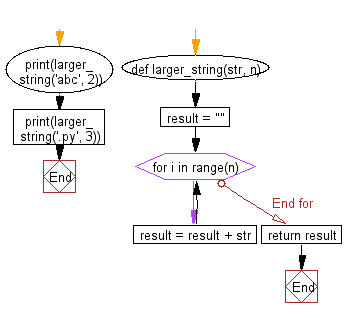 Visualize Python code execution:
The following tool visualize what the computer is doing step-by-step as it executes the said program:
Python Code Editor:
Have another way to solve this solution? Contribute your code (and comments) through Disqus.
Previous: Write a Python program to get a new string from a given string where "Is" has been added to the front. If the given string already begins with "Is" then return the string unchanged.
Next: Write a Python program to find whether a given number (accept from the user) is even or odd, print out an appropriate message to the user.
What is the difficulty level of this exercise?
Test your Python skills with w3resource's quiz

Python: Tips of the Day
Unpack variables from iterable:
# One can unpack all iterables (tuples, list etc)
>>> a, b, c = 1, 2, 3
>>> a, b, c
(1, 2, 3)

>>> a, b, c = [1, 2, 3]
>>> a, b, c
(1, 2, 3)

---
New Content published on w3resource:
---
---