Python: Input a filename and print the extension of that
Python Basic: Exercise-7 with Solution
Write a Python program to accept a filename from the user and print the extension of that.
Sample filename: abc.java
Python str.rsplit(sep=None, maxsplit=-1) function:
The function returns a list of the words of a given string using a separator as the delimiter string.
If maxsplit is given, the list will have at most maxsplit+1 elements.
If maxsplit is not specified or -1, then there is no limit on the number of splits.
If sep is given, consecutive delimiters are not grouped together and are deemed to delimit empty strings.
The sep argument may consist of multiple characters.
Splitting an empty string with a specified separator returns [''].
Pictorial Presentation: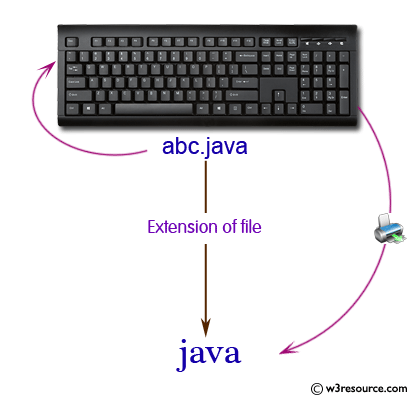 Sample Solution:-
Python Code:
filename = input("Input the Filename: ")
f_extns = filename.split(".")
print ("The extension of the file is : " + repr(f_extns[-1]))


Sample Output:
Input the Filename: abc.java                                                                                  
The  extension of the file is : 'java'

Flowchart: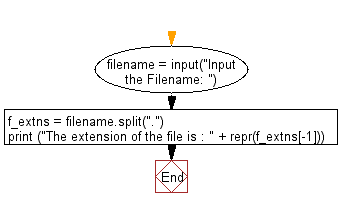 Visualize Python code execution:
The following tool visualize what the computer is doing step-by-step as it executes the said program:
Python Code Editor:
Have another way to solve this solution? Contribute your code (and comments) through Disqus.
Previous: Write a Python program which accepts a sequence of comma-separated numbers from user and generate a list and a tuple with those numbers.
Next: Write a Python program to display the first and last colors from the following list.
What is the difficulty level of this exercise?
Test your Python skills with w3resource's quiz

Python: Tips of the Day
Unpack variables from iterable:
# One can unpack all iterables (tuples, list etc)
>>> a, b, c = 1, 2, 3
>>> a, b, c
(1, 2, 3)

>>> a, b, c = [1, 2, 3]
>>> a, b, c
(1, 2, 3)

---
New Content published on w3resource:
---
---