Python Exercise: Sequence of lines as input and prints the lines as output in lower case
Python Conditional: Exercise-12 with Solution
Write a Python program that accepts a sequence of lines (blank line to terminate) as input and prints the lines as output (all characters in lower case).
Pictorial Presentation: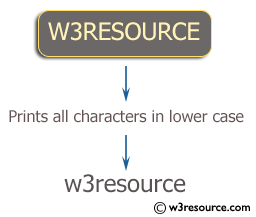 Sample Solution:
Python Code:
# Create an empty list named 'lines'
lines = []

# Continue to prompt the user for input indefinitely until a blank line is entered
while True:
    # Prompt the user to input a line of text
    l = input()
    
    # Check if the entered line is not empty (non-empty string)
    if l:
        # Convert the entered line to uppercase and append it to the 'lines' list
        lines.append(l.upper())
    else:
        # If the entered line is empty, break out of the loop
        break;

# Iterate through each line in the 'lines' list
for l in lines:
    # Print each line (converted to uppercase) from the 'lines' list
    print(l) 
	

Sample Output:

w3resource                                                                                                    
Python                                                                                                        
                                                                                                              
W3RESOURCE                                                                                                    
PYTHON

Flowchart: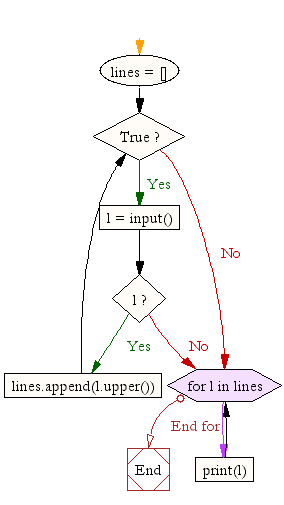 Python Code Editor:
Have another way to solve this solution? Contribute your code (and comments) through Disqus.
Previous: Write a Python program which takes two digits m (row) and n (column) as input and generates a two-dimensional array. The element value in the i-th row and j-th column of the array should be i*j.
Next: Write a Python program which accepts a sequence of comma separated 4 digit binary numbers as its input and print the numbers that are divisible by 5 in a comma separated sequence.
What is the difficulty level of this exercise?
Test your Programming skills with w3resource's quiz.

---
---
---