Python: Create the HTML string with tags around the word(s)
Python String: Exercise-15 with Solution
Write a Python function to create the HTML string with tags around the word(s).
Sample function and result :
add_tags('i', 'Python') -> '<i>Python</i>'
add_tags('b', 'Python Tutorial') -> '<b>Python Tutorial </b>'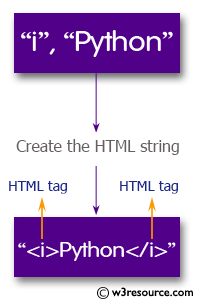 Sample Solution:-
Python Code:
def add_tags(tag, word):
	return "<%s>%s</%s>" % (tag, word, tag)
print(add_tags('i', 'Python'))
print(add_tags('b', 'Python Tutorial'))


Sample Output:
Python                                                                                                 
Python Tutorial 

Flowchart: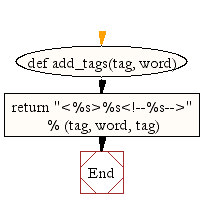 Python Code Editor:
Have another way to solve this solution? Contribute your code (and comments) through Disqus.
Previous: Write a Python program that accepts a comma separated sequence of words as input and prints the unique words in sorted form (alphanumerically).
Next: Write a Python function to insert a string in the middle of a string.
What is the difficulty level of this exercise?
Test your Programming skills with w3resource's quiz.

Python: Tips of the Day
Performs right-to-left function composition:
Example:
from functools import reduce

def tips_compose(*fns):
  return reduce(lambda f, g: lambda *args: f(g(*args)), fns)
add6 = lambda x: x + 6
multiply = lambda x, y: x * y
multiply_and_add_6 = tips_compose(add6, multiply)

print(multiply_and_add_6(10, 3))

Output:
36

---
New Content published on w3resource:
---
---