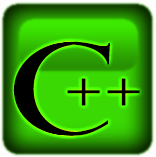 C++ Exercises practice with solution
What is C++ Programming Language?
C++ is a general-purpose programming language. It has imperative, object-oriented and generic programming features, while also providing facilities for low-level memory manipulation.
It was designed with a bias toward system programming and embedded, resource-constrained and large systems, with performance, efficiency and flexibility of use as its design highlights. Many vendors provide C++ compilers, including the Free Software Foundation, Microsoft, Intel, and IBM.
The best way we learn anything is by practice and exercise questions. We have started this section for those (beginner to intermediate) who are familiar with C++ programming.
Hope, these exercises help you to improve your C++ programming coding skills. Currently, following sections are available, we are working hard to add more exercises .... Happy Coding!
More to Come !
Popularity of Programming Language Worldwide, Jun 2018 compared to a year ago:
| Rank | Change | Language | Share | Trend |
| --- | --- | --- | --- | --- |
| 1 | | Python | 23.04 % | +5.2 % |
| 2 | | Java | 22.45 % | -0.6 % |
| 3 | | Javascript | 8.6 % | +0.3 % |
| 4 | | PHP | 8.21 % | -1.6 % |
| 5 | | C# | 8.01 % | -0.4 % |
| 6 | | C/C++ | 6.15 % | -1.1 % |
| 7 | | R | 4.14 % | +0.1 % |
| 8 | | Objective-C | 3.46 | -1.0 % |
| 9 | | Swift | 2.75 % | -0.8% |
| 10 | | Matlab | 2.15 % | -0.4 % |
| 11 | | Ruby | 1.7 % | -0.4 % |
| 12 | | TypeScript | 1.54 % | +0.4 % |
| 13 | | VBA | 1.37% | -0.0 % |
| 14 | | Scala | 1.23 % | -0.1 % |
| 15 | | Visual Basic | 1.22 % | -0.2 % |
| 16 | | Kotlin | 0.93 % | +0.6 % |
| 17 | | Go | 0.92 % | +0.3 % |
| 18 | | Perl | 0.76 % | -0.1 % |
| 19 | | lua | 0.43 % | -0.0 % |
| 20 | | Rust | 0.37 % | +0.0 % |
| 21 | | Haskell | 0.3 % | -0.1 % |
| 22 | | Delphi | 0.27% | -0.1 % |
Source : http://pypl.github.io/PYPL.html
TIOBE Index for June 2018
| June 2018 | June 2017 | Change | Programming Language | Ratings | Change |
| --- | --- | --- | --- | --- | --- |
| 1 | 1 | | Java | 15.368% | +0.88% |
| 2 | 2 | | C | 14.936% | +8.09% |
| 3 | 3 | | C++ | 8.337% | +2.61% |
| 4 | 4 | | Python | 5.761% | +1.43% |
| 5 | 5 | | C# | 4.314% | +0.78% |
| 6 | 6 | | Visual Basic .NET | 3.762% | +0.65% |
| 7 | 8 | | PHP | 2.881% | +0.11% |
| 8 | 7 | | JavaScript | 2.495% | -0.53% |
| 9 | - | | SQL | 2.339% | +2.34% |
| 10 | 14 | | R | 1.452% | -0.70% |
| 11 | 11 | | Ruby | 1.253% | -0.97% |
| 12 | 18 | | Objective-C | 1.181% | -0.78% |
| 13 | 16 | | Visual Basic | 1.154% | -0.86% |
| 14 | 9 | | Perl | 1.147% | -1.16% |
| 15 | 12 | | Swift | 1.145% | -1.06% |
| 16 | 10 | | Assembly language | 0.915% | -1.34% |
| 17 | 17 | | MATLAB | 0.894% | -1.10% |
| 18 | 15 | | Go | 0.879% | -1.17% |
| 19 | 13 | | Delphi/Object Pascal | 0.875% | -1.28% |
| 20 | 20 | | PL/SQL | 0.848% | +0.72% |
Source : https://www.tiobe.com/tiobe-index/

Amazon promo codes to get huge discounts for limited period (USA only).
---