JavaScript: Check whether all elements in a given array are equal or not
JavaScript fundamental (ES6 Syntax): Exercise-56 with Solution
Write a JavaScript program to check whether all elements in a given array are equal or not.
Use Array.prototype.every() to check if all the elements of the array are the same as the first one.
Elements in the array are compared using the strict comparison operator, which does not account for NaN self-inequality.
Sample Solution:
JavaScript Code:
//#Source https://bit.ly/2neWfJ2 
const allEqual = arr => arr.every(val => val === arr[0]);
console.log(allEqual([1, 2, 3, 4, 5, 6]));
console.log(allEqual([12, 12, 12, 12]));


Sample Output:

false
true

Pictorial Presentation:
Flowchart: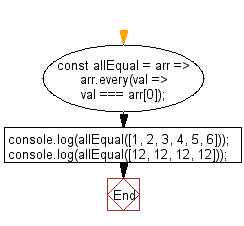 Live Demo:
See the Pen javascript-basic-exercise-56-1 by w3resource (@w3resource) on CodePen.
Improve this sample solution and post your code through Disqus
Previous: Write a JavaScript program to Join all given URL segments together, then normalizes the resulting URL.
Next: Write a JavaScript program to compute the average of an array, after mapping each element to a value using the provided function.
What is the difficulty level of this exercise?
Test your Programming skills with w3resource's quiz.

---
---
---