▼Javascript Statements
▼Conditional Statements
▼Loop Statements
▼Object Manipulation Statements
▼Exception Handling Statement
▼Other Statements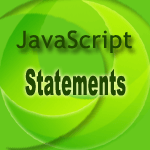 JavaScript: return statement
Description
The return statement returns a value and exits from the current function.
Version
Implemented in JavaScript 1.0
Syntax
return expression 
Parameters
expression: The expression to return. If not present, the function does not return a value.
Example:
In the following web document rectangle_area() function returns the area of a rectangle.
HTML Code
<!DOCTYPE html>
<html lang="en">
<head>
<meta charset=utf-8>
<title>JavaScript return statement :  Example-1</title>
<script type="text/javascript">
function rectangle_area(h,w)
{
return h*w;
}
</script>
</head>
<body>
<h1 style="color: red">JavaScript : return statement</h1>
<hr />
<script type="text/javascript">
console.log("Area of the Rectangle " +rectangle_area(400,300)+" sq.ft.");
</script>
</body>
</html>


View the example in the browser
Practice the example online
See the Pen return-1 by w3resource (@w3resource) on CodePen.

New Content: Composer: Dependency manager for PHP, R Programming
---