Python: Find the number of combinations of a,b,c and d
Python Basic - 1: Exercise-37 with Solution
Write a Python program which reads an integer n and find the number of combinations of a,b,c and d (0 ≤ a,b,c,d ≤ 9) where (a + b + c + d) will be equal to n.
Input:
n (1 ≤ n ≤ 50)
Sample Solution:
Python Code:
import itertools
print("Input the number(n):")
n=int(input())
result=0
for (i,j,k) in itertools.product(range(10),range(10),range(10)):
    result+=(0<=n-(i+j+k)<=9)
print("Number of combinations:",result)

Sample Output:
Input the number(n):
 15
Number of combinations: 592

Flowchart: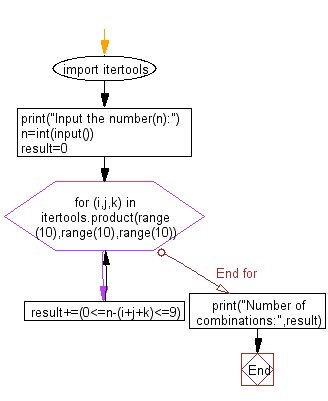 Python Code Editor:
Have another way to solve this solution? Contribute your code (and comments) through Disqus.
Previous: Write a Python program to compute the amount of the debt in n months. The borrowing amount is $100,000 and the loan adds 5% interest of the debt and rounds it to the nearest 1,000 above month by month.
Next: Write a Python program to print the number of prime numbers which are less than or equal to an given integer.
What is the difficulty level of this exercise?
Test your Python skills with w3resource's quiz

---
Python: Tips of the Day
Checks if the given number falls within the given range.
Example:
def tips_range(n, start, end = 0):
  return start <= n <= end if end >= start else end <= n <= start
print(tips_range(2, 4, 6))
print(tips_range(4, 8))
print(tips_range(1, 3, 5))
print(tips_range(1, 3))

Output:
False
True
False
True

---
New Content published on w3resource :
---
---
---