Python: Convert unix timestamp string to readable date
Python datetime: Exercise-6 with Solution
Write a Python program to convert a Unix timestamp string to a readable date.
Sample Solution:
Python Code:
import datetime
print(
    datetime.datetime.fromtimestamp(
        int("1284105682")
    ).strftime('%Y-%m-%d %H:%M:%S')
)


Sample Output:

2010-09-10 13:31:22 

Flowchart: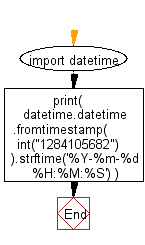 Python Code Editor:
Contribute your code and comments through Disqus.
Previous: Write a Python program to subtract five days from current date.
Next: Write a Python program to print yesterday, today, tomorrow.
What is the difficulty level of this exercise?
Test your Programming skills with w3resource's quiz.

---
---
---