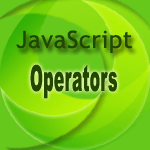 JavaScript: Comma Operator
Description
The comma operator (,) is used to execute two expressions sequentially.
Syntax
expr1, expr2
Parameters
expr1: Any expressions.
expr2: Any expressions.
We use the comma operator when we want to include multiple expressions in a location that requires a single expression. This operator is generally used inside a for loop, to allow multiple variables to be updated (increase/decrease) each time through the loop.
For example, we want to display a serial No. (starting from 1) and an employee code ( starting from 10 ), the following code uses the comma operator to increment two variables at once.
for (var i=1, j=10; i <=10; i++, j++)
{
alert('Sl. No. : '+i+' Employee Code : '+j)
} 


See also
Conditional Operator
delete
function
in
instanceof
new
this
typeof
void

New Content: Composer: Dependency manager for PHP, R Programming
---