Databases
Database server: MySQL
MySQL is most world's most popular open-source database
Organizations like Yahoo, Google, Alcatel, Nokia, Youtube, facebook etc are using MySQL.
MySQL features
Cross-platform compatible
Libraries for all major programming languages
Many administration choices, command line, web based, GUIs
Stored procedures
Triggers
Cursors

Selection of storage engines (innoDB, Berkeley, etc.)

Replication
ACID compliance with innoDB, DBD, Cluster engines.
Full-text indexing
Open-source!
MySQL installation
Installs the MySQL authentication module
sudo apt-get install mysql-server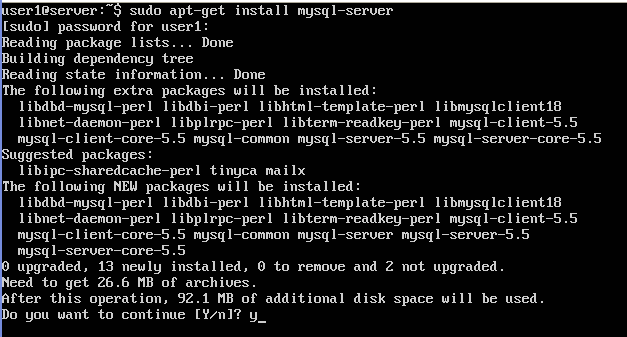 after pressing enter key we get these result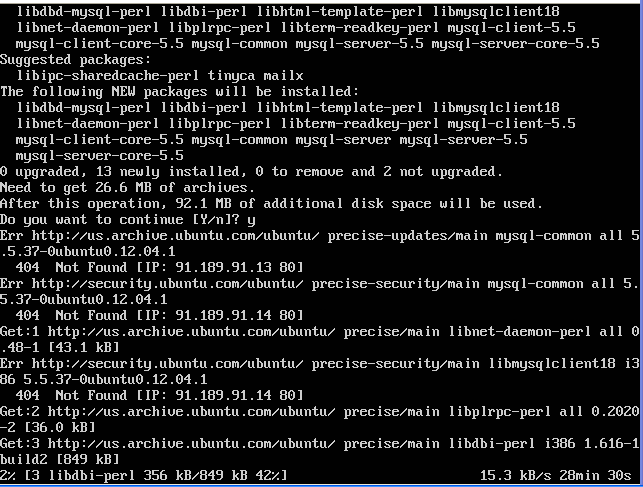 After installation, check mysql deamon is running -->
sudo netstat -tap | grep mysql
To restart: -->
sudo /etc/init.d/mysql restart
To configure: -->
sudo vi /etc/mysql/my.cnf
Create a new database and user
Log on as root (asks for password): -->
mysql -u root -p
Create a new database: -->
create database myDB;
Create a new user for the new database: -->
grant all privileges on myDB.* to newuser @ localhost identified by newpassword with grant option;
To verify this worked, exit and logon as the new user (no error messages mean all good): -->
exit;
mysql -u newuser -p #asks for password
use myDB;
LAMP
LAMP stands for Linux, Apache, MySQL and Php.
LAMP applications are packaged in a way that makes it easy to install and manage.
LAMP example: Moin Moin
Moin Moin is a Python-based wiki engine.
Install Moin Moin (expects Apache 2 already installed): -->
sudo apt-get install python-moinmoin
Prepare the Moin Moin directory:
cd /usr/share/moin
sudo mkdir mywiki
sudo cp -R data mywiki
sudo cp -R underlay mywiki
sudo cp server/moin.cgi mywiki
sudo chown -R www-data.www-data
mywiki
sudo chmod -R ug+rwX mywiki
sudo chmod -R o-rwx mywiki
Configure Moin Moin
Edit /etc/moin/mywiki.py -->
 data_dir = '/usr/share/Edit /etc/moin/mywiki.py moin/mywiki/data'
In the next line, insert:--->
 data_underlay_dir='/usr/share/moin/mywiki/underlay'
Configure Apache; add the following lines in /etc/apache2/ sites-available/default file inside the <VirtualHost *>
 ### moin
ScriptAlias /mywiki "/usr/share/moin/mywiki/moin.cgi"
alias /moin_static181 "/usr/share/moin/htdocs"
<Directory /usr/share/moin/htdocs>
Order allow,deny
allow from all
</Directory>
### end moin

Restart your Ubuntu OS with the following command
sudo /etc/init.d/mysql restart
Test it... Browse to http://localhost/mywiki
Previous: Web-server
Next: FTP

---
---
---
We are closing our Disqus commenting system for some maintenanace issues. You may write to us at reach[at]yahoo[dot]com or visit us at Facebook