Oracle DBTIMEZONE function
How to get the value of the Database time zone?
DBTIMEZONE function returns the value of the database time zone.
Parameters:
No parameters or arguments.
Syntax:
DBTIMEZONE
Return type:
The return type is a time zone offset (a character type in the format '[+|-]TZH:TZM') or a time zone region name. It depends on how the user specified the database time zone value in the most recent CREATE DATABASE or ALTER DATABASE statement.
Pictorial Presentation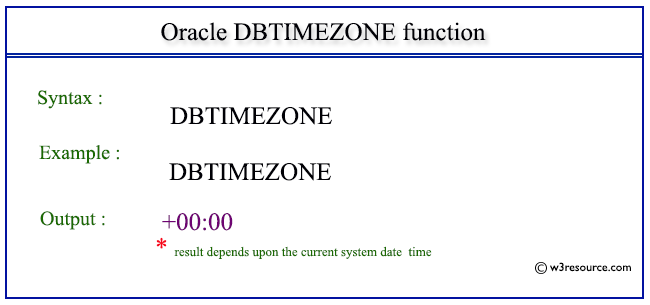 Example: Oracle DBTIMEZONE function
The following statement assumes that the database time zone is set to UTC time zone:
SQL> SELECT DBTIMEZONE FROM DUAL;


Sample Output:

DBTIMEZONE
-------------
+00:00

Previous: CURRENT_TIMESTAMP
Next: EXTRACT(datetime)

---
---
---