Python Math: Convert a float to ratio
Python Math: Exercise-82 with Solution
Write a Python program to convert a float to ratio.
Sample Solution:-
Python Code:
from fractions import Fraction
value = 4.2
print(Fraction(value).limit_denominator())


Sample Output:
21/5 

Flowchart: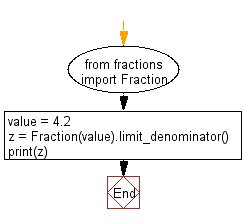 Python Code Editor:
Have another way to solve this solution? Contribute your code (and comments) through Disqus.
Previous: Write a Python program to generate a series of unique random numbers.
Next: File Exercises Home.
What is the difficulty level of this exercise?
Test your Python skills with w3resource's quiz

---
Python: Tips of the Day
Python: Inspect an object in Python
Example:
test_obj = [1, 3, 5, 7]
print( dir(test_obj) )

Output:
['__add__', '__class__', '__contains__', '__delattr__', '__delitem__', '__dir__', '__doc__', '__eq__', '__format__', 
'__ge__', '__getattribute__', '__getitem__', '__gt__', '__hash__', '__iadd__', '__imul__', '__init__',
 '__init_subclass__', '__iter__', '__le__', '__len__', '__lt__', '__mul__', '__ne__', '__new__', '__reduce__', 
'__reduce_ex__', '__repr__', '__reversed__', '__rmul__', '__setattr__', '__setitem__', '__sizeof__', '__str__', 
'__subclasshook__', 'append', 'clear', 'copy', 'count', 'extend', 'index', 'insert', 'pop', 'remove', 'reverse', 'sort']

---
New Content published on w3resource:
---
---
---