PHP: gettype() function
Description
The gettype() function is used to get the type of a variable.
Version:
(PHP 4 and above)
Syntax:
gettype(var_name)
Parameter:
Name
Description
Required /
Optional
Type
var_name
The name of the variable.
Required
Mixed*
*Mixed : Mixed indicates that a parameter may accept multiple (but not necessarily all) types.
Return value
Possible values of the returned string:
boolean
integer
double
string
array
object
resource
NULL
unknown type
Pictorial presentation of PHP gettype() function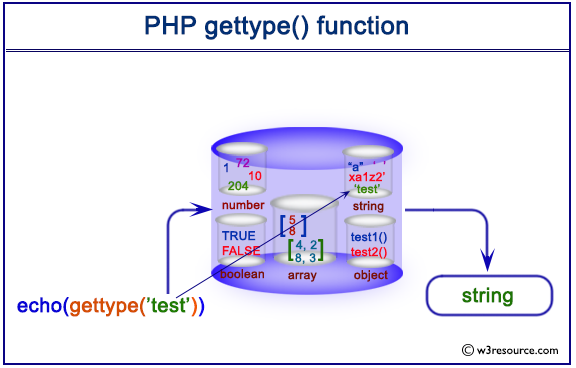 Example :
<?php
echo gettype(102).'<br>';
echo gettype(true).'<br>';
echo gettype(' ').'<br>';
echo gettype(null).'<br>';
echo gettype(array()).'<br>';
echo gettype(new stdclass());
?>

Output:
integer
boolean
string
NULL
array
object 
View the example in the browser
Practice here online :
See also
Previous: get_resource_type
Next: import_request_ variables

---
PHP: Tips of the Day
PHP: PHP Constants Containing Arrays?
NOTE: while this is the accepted answer, it's worth noting that in PHP 5.6+ you can have const arrays
You can also serialize your array and then put it into the constant:
# define constant, serialize array
define ("FRUITS", serialize (array ("apple", "cherry", "banana")));

# use it
$my_fruits = unserialize (FRUITS);

Ref : https://bit.ly/2EcIer8
---
New Content published on w3resource :
---
---
---