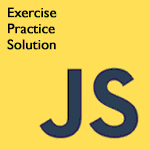 JavaScript Recursion - Exercises, Practice, Solution
JavaScript Recursion [9 exercises with solution]
[An editor is available at the bottom of the page to write and execute the scripts.]
Use recursion to solve the following exercises.
1. Write a JavaScript program to calculate the factorial of a number. Go to the editor
In mathematics, the factorial of a non-negative integer n, denoted by n!, is the product of all positive integers less than or equal to n. For example, 5! = 5 x 4 x 3 x 2 x 1 = 120
Click me to see the solution
2. Write a JavaScript program to find the greatest common divisor (gcd) of two positive numbers. Go to the editor
Click me to see the solution.
3. Write a JavaScript program to get the integers in range (x, y). Go to the editor
Example : range(2, 9)
Expected Output : [3, 4, 5, 6, 7, 8]
Click me to see the solution.
4. Write a JavaScript program to compute the sum of an array of integers. Go to the editor
Example : var array = [1, 2, 3, 4, 5, 6]
Expected Output : 21
Click me to see the solution.
5. Write a JavaScript program to compute the exponent of a number. Go to the editor
Note : The exponent of a number says how many times the base number is used as a factor.
82 = 8 x 8 = 64. Here 8 is the base and 2 is the exponent.
Click me to see the solution.
6. Write a JavaScript program to get the first n Fibonacci numbers. Go to the editor
Note : The Fibonacci Sequence is the series of numbers: 0, 1, 1, 2, 3, 5, 8, 13, 21, 34, . . . Each subsequent number is the sum of the previous two.
Click me to see the solution.
7. Write a JavaScript program to check whether a number is even or not. Go to the editor
Click me to see the solution.
8. Write a JavaScript program for binary search. Go to the editor
Sample array : [0,1,2,3,4,5,6]
console.log(l.br_search(5)) will return '5'
Click me to see the solution.
9. Write a merge sort program in JavaScript. Go to the editor
Sample array : [34,7,23,32,5,62]
Sample output : [5, 7, 23, 32, 34, 62]
Click me to see the solution.
More to Come !
* To run the code mouse over on Result panel and click on 'RERUN' button.*
Live Demo:
See the Pen javascript-common-editor by w3resource (@w3resource) on CodePen.
Many of our valued users post comments along with piece of code. Disqus may, false positively, consider those piece of code as Bad or Starnge syntax and send those comments to spam automatically. Even if that happens, we will make sure those useful comments are taken out of spam and approved. It may take a couple of days for that though, but any useful comment will be brought to public view for sure. We regret if that happend to any user. You may write us directly regarding this to - w3resource[at]yahoo[dot]com.
---